Ouvrage édité par Renaud Colson et Henri Bergeron, 2017 – Routledge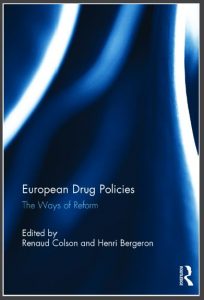 Co-dirigé par le professeur Henri Bergeron (Sciences Po) et préfacé par Mme Ruth Dreifuss, ancienne présidente de la Confédération suisse, ce livre réunit 22 contributions de juristes et politistes issus de 12 pays européens. Il analyse les politiques de lutte contre la toxicomanie mises en œuvre à l'échelle de l'Union européenne et de ses États Membres à la lumière du mouvement de réforme transnational qui questionne le tropisme répressif du droit de la drogue.
The drug control regime established by the international community has not succeeded in curbing either the demand for, or the offer of, narcotics. But, despite a series of developments in the Americas – including the legalisation of cannabis in Uruguay and in several states in the United States of America – there is still little support in Europe for repealing drug-prohibition laws. Nevertheless, a gradual policy convergence reveals the emergence of a European model favouring public-health strategies over a strictly penal approach to combatting drugs, while growing transnational support for legalisation indicates the persistence of an alternative paradigm for drug policy. This book examines the various influences on drug policies in Europe, as grassroots movements, NGO networks, private foundations and academic research centres increasingly confront the prevailing discourses of drug prohibition. Pursuing an interdisciplinary approach and bringing together legal scholars, social scientists and practitioners, it provides a comprehensive and critical assessment of drug policy reform in Europe.